What are the advantages of high-voltage input module power supply?(2)
2022-12-08
(1) It has a particularly wide range of uses, not only aerospace, post and telecommunications, but also metallurgy, mining, automatic control, etc., whether it is social production or daily life, it can be well used;
The synchronous rectification technology uses field effect transistors (MOSFETs) with small on-resistance and low withstand voltage to replace ordinary rectifier diodes. Since the synchronous rectifier MOSFET has the characteristics of low on-resistance (generally only a few mΩ), small leakage current when blocking, and high switching operating frequency, it can greatly reduce the power consumption of the power rectifier part and make the working efficiency of the power system obvious. It is improved, but the realization of synchronous rectification is more complicated than diode rectification in specific applications. In the application of low voltage and high current output of switching power supply, synchronous rectification technology has a good application prospect.
(2) high-voltage input module power supply The quality is relatively excellent, the quality is relatively stable and reliable, and it can be produced automatically;
(3) The technology is relatively simple, and it is easy to meet the relevant requirements;
(4) high-voltage input module power supplyThe development cycle is relatively short, there are many choices in input and output, and the changes are quite flexible;
(5) When the design of the product needs to be changed, it can be simply converted or connected in parallel;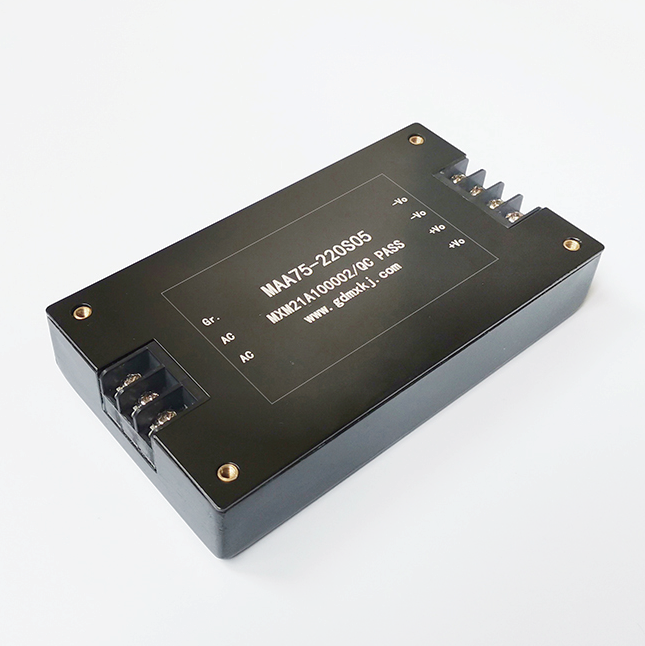 (6) high-voltage input module power supply The design is relatively simple, without too many parts, just a power module and a few discrete components;
(2) Parallel connection of redundant hot backup. Connecting the output terminals of the same module through diodes in parallel can enhance the output capability and improve the reliability of the power supply system. In principle, if it cooperates with the corresponding output alarm circuit, put the module on the busbar that can be removed, so that the faulty module can be replaced in time. There is no limit to the number of modules connected in parallel in this way. D is generally a Schottky diode.
(3) Series expansion. Connecting the output terminals of the same module in series can double the output voltage and increase the power accordingly, and the series output terminals must be connected with diodes for protection.
In many fields, switching power supply modules play a role that cannot be ignored and are very important.